Travelling to Paris from Charles-de-Gaulle CDG Airport

9 April 2018
9 April 2018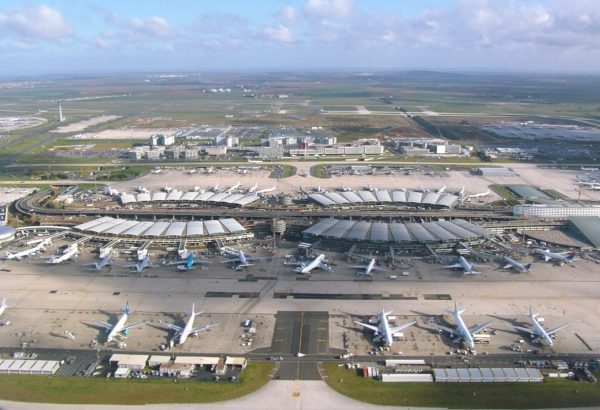 Do you arrive from Roissy – Charles de Gaulle airport (CDG) to Paris? Are you flying from Paris Charles-de-Gaulle Airport (CDG)? Discover all the tips to better prepare for your arrival or departure from the capital and not wasting time to reach your destination from Paris Roissy – Charles de Gaulle CDG airport.
1. Check traffic situation on the RER B in advance
The best way to get to Paris or Roissy-CDG airport is the RER B line which offers trains every 10 minutes on average, with direct trains to be privileged, every 20-30 minutes.
The RER lines are the most used in Europe, so, as you can imagine, malfunctions or strikes on the network can happen. That's why, before taking the plane, check the situation of the network on the RATP website to be ready to move in the urban jungle that is Paris!
Follow the current situation of the RER line B between Paris and Roissy-CDG (only in French)
If it written "Trafic Pertubé", it means the traffic is disrupted, "Trafic fluide" means you will have no issue :).
2. Avoid scams with the price of taxis
Since 1 March 2016, taxi fares between Paris, its suburbs and airports are regulated. From 50 euros (for the right bank) and 55 euros (for the left bank) for CDG. Taxi drivers are not allowed to approach you when you arrive at Roissy – Charles de Gaulle airport.
Learn more about airport taxis
3. If you're taking the bus, watch out for traffic jams in Paris
If you decide to take the bus to get to CDG airport or to go to Paris from the airport, there are bus lines (named RoissyBus) that drive all over Paris to take you to the airport. The capital is a very busy city, so it is better to take the RoissyBus in advance to avoid any inconvenience.
Check traffic conditions around Paris for RoissyBUS
4. Do not take your luggage with you between your home and Paris CDG airport
To save time is also to use additional solutions to leave your luggage for the day and get it back to your terminal departure at Roissy-CDG airport.
For example, if you are going on vacation or traveling abroad right after your work: you can book your luggage transfer : a concierge will come to your home in the morning before you leave for work. He or she will take care of your luggage and will seal your bag before you.
Then you will pick them up at your departure terminal at Roissy-CDG airport (Terminal 1, Terminal 2 (2A, 2B, 2C, 2D, 2E, 2F and 2G) and Terminal 3).
You choose the time and address of collection, as well as the delivery terminal where your concierge will wait for you with your belongings.
Discover the luggage service and transfer from Paris to the airport
Discover the luggage service and transfer from Roissy-CDG
5. Don't carry your luggage to your rental, hotel to / from CDG airport anymore
A storage and transfer service exists for all people who do not wish to carry their luggage to their destination in Paris.
After booking your pick-up, a concierge will meet you at the terminal of your choice to collect and seal your luggage before you.
You will get them back at the time and address of your choice in Paris and the Paris region, they will be delivered by an Eelway concierge. You will receive an email at each step of the transfer of your luggage. You will know when your concierge will be on the way for the delivery of your luggage and when he will arrive at your location.
The delivery time slot is only 30 minutes, which is really short and allows you to organize your day without any restrictions. For example, you can choose between 5.00pm and 5.30pm at your hotel. You can even ask your hotel to pick up your luggage for you. (Eelway has many partner hotels that can keep your luggage until you arrive, to avoid any wait).
Learn more about luggage concierge service at CDG Airport
6. Do not waste any more time collecting your luggage at Roissy-CDG
If you land at Paris Charles-de-Gaulle airport (CDG) and want to enjoy your stay as soon as you leave the airport, you can save time by choosing the best way to go to the city.
Your luggage is picked up directly by Eelway employees in the baggage claim area (on the carousel). Then your luggage is stored in a secure area in the airport of CDG and transferred to a carrier who delivers it to the address of your choice (home, hotel, offices) in Paris, Ile-de-France but also throughout France (available on quotation).
Contact the team to know more about the collection service in the baggage claim area with delivery at home/hotel
7. Check the weight of your bag before you leave
Some companies are more or less flexible on exceeding the weight of your luggage. However, be aware that airlines make a great deal of money on this matter, so it is always best to check the weight and maximum dimensions of your bag (and the authorized number per person) on the site of each company:
8. Check your luggage online before arriving at the airport
For all airlines, check-in is expensive at the terminals of Roissy-Charles-de-Gaulle CDG airport. That's why, many advise their customers to check their luggage online to ease their customer journey in the terminal. It saves you time, so why not take advantage of it?
Book now your luggage storage and transfer between Paris and Charles-de-Gaulle CDG Airport
Our sources: